News & Notes
PUBLIC WORKS POSITION
The Town of Burke is seeking a qualified individual to fill the position of Public Works Patrolman.  The desired qualifications include having a valid Wisconsin Commercial Driver's License (or the ability to obtain within one month of hire), a high school diploma or GED and three years of relevant and applicable experience.  The successful individual must be willing to work nights, holidays and/or weekends as required to provide public safety and service to the community.
Responsibilities include maintaining Town roads, culverts, parks, buildings and grounds, vehicles and equipment, plowing and salting roads, and brush disposal.  Excellent benefits are offered and include health and life insurance and participation in the Wisconsin Retirement System. Public Works Patrolman Job Description. Starting hourly wage will be dependent on qualifications and experience.
Please contact the Town Administrator, PJ Lentz, at 608-825-8420 or email to: Clerk@TownofBurke.com for more information. Send your cover letter and resume including salary requirements to the Town of Burke, 5365 Reiner Road, Madison, WI 53718, Attention Town Administrator, or email: Clerk@TownofBurke.com. Cover letters and resumes will be accepted until the position is filled.  The Town of Burke is an equal opportunity employer.
Felland Road will be closed to through traffic for the next 60 days (ending August 31).Felland Rd Closure Map 6.13
Community Room
The Town is renting out the community room once again. Look to the bottom right hand side for the applications for the Community Room or the Shelter.
Parks Commission
Meet the 2022 Parks Commission members: Lisa Rubrich (Board Supervisor), Michael Rubrich, Paul Wagner, and Beth Butler. There is room for another resident or two. Please contact Lisa or PJ if interested in joining this energetic group.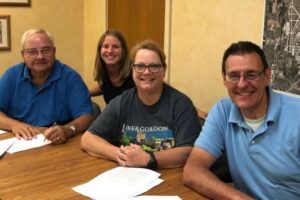 Safety Check: Please be aware that this is the time of the year when youth are out and about and looking for things to do. Don't give them your car, cash, or weapons. Make sure to lock your cars, garages, and all doors. And make sure to say something if you see something. Call 911 and report anything you feel is out of the ordinary. Keep watch on your street and neighbors. It's amazing how much good one person can do with a call to 911.
Lions Club
The Burke Lions Club has a donation bin in the Town lobby for eye glass donations. Please drop off any prescription eye glasses to be donated and used for those in need.
August 9 Partisan Primary
In Person Absentee Voting will be July 26, 27, & 28 from 9:00 am – 4:00 pm; July 29, 9:00 am – noon, and August 1-5 9:00 am – 5:00 pm. To Register to Vote or Request an Absentee Ballot mailed to you go to MYVOTE.WI.GOV.  
Yard Waste
Yard Waste will be picked up by Pellitteri the week of March 28 – April 1, 2022, May 31 – June 3, 2022, September 12-16, October 24 – 28, 2022, and December 1-9, 2022. Yard waste and grass clippings must be on the curb by 6am Monday morning and must be placed in either a reusable container, compostable bags, or in plastic bags (not more than 32 gallon size). Plastic bags should be left open, untied. Loose yard waste or yard waste on tarps will not be collected. Contaminated bags or containers will not be collected.
Brush
Brush will be picked up by Barnes, Inc the first week of each month of May, July, September, and November. Brush collected must be on the curb by 6am Monday morning and will be limited to material 10′ in length and not exceed 6″ in diameter and one pile per home. Pile will not exceed 4'X4'X10′ in size. NO yard waste, tree roots, root balls, stumps, or logs larger than 6″ in diameter will be collected.
Newsletter: If you wish to receive your news (including the newsletter) by email, send us an email to get on the list. We will only use it for Town related information such as trash pick up changes, road closures, and yard waste pick up reminders.
A Little History
The Town of Burke officially began in 1851 when it separated from Windsor. Burke was named for Irish statesman Edmund Burke, as most of its original residents were Irish. The town is set to be annexed by the City of Madison, the Village of De Forest, and the City of Sun Prairie by 2036 giving the Town 185 years of history.